Voice Writing Method (Book) & SpeedMaster™ (Software) Package

Just What You Need to Know for Realitme Careers with Speech Recognition

All-in-one reference book and software for beginners and advanced realtime voice writers alike who wish to master transcription with speech recognition (NaturallySpeaking® and ViaVoice®) with or without CAT software.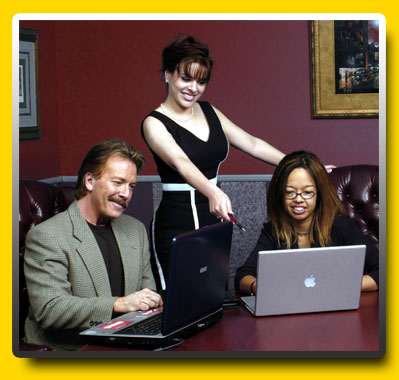 In-Person Training 

Hands-On Personal Attention

We have excellent certified Eclipse™ trainers who also happen to be experienced working realtime voice writers. It is best to receive training from someone who is qualified to give you the answers you need to competently perform your job in the real world!


iBootcamp (Online Training) 

Sign up for a webinar and participate in live training conducted by a certified Eclipse™ trainer over the Internet. This powerful, interactive training method allows you to get everything an in-person trainer would provide and you get it while in the comfort of your own home.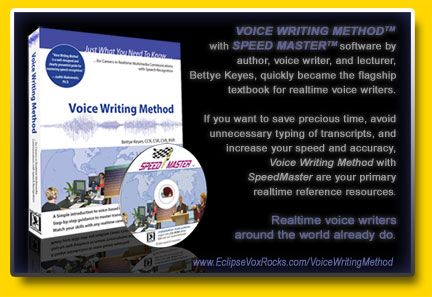 Training Materials (Videos, Books, and Voice Writing Theory Files on CD)

How to do Realtime Voice Writing Training Manual & CD with Over 40 How-To Videos for Voice Writers

This training package includes over 40 how-to videos and step-by-step instructions on how to utilize EclipseVox™ for realtime voice writing.  Also provided are instant setup files which contain a comprehensive voice writing theory, vocabulary building documents, and ready-made Eclipse™ dictionaries, so you don't have to do that work all by yourself from scratch. (NaturallySpeaking® edition of training manual and setup files on CD are currently available without videos. Videos coming soon.)